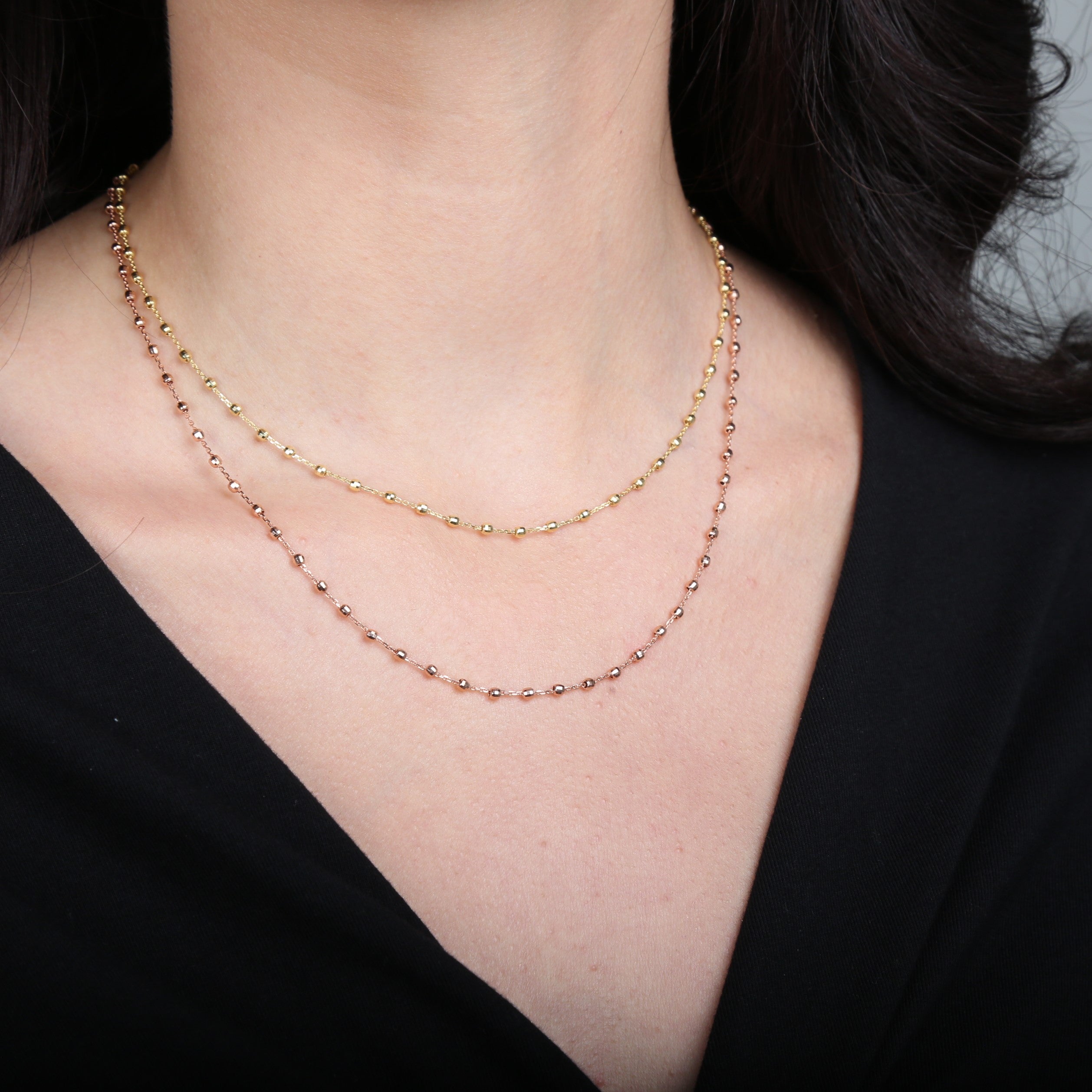 Fall Style Guide: Best Gold Jewelry for Fall Outfits
Gold jewelry has this timeless appeal during the fall season. Isn't there just something about gold in the fall that's absolutely irresistible? The warm tones of gold perfectly complement the autumn color palette. Think about it: the rich, earthy hues of fall foliage, the deep reds, burnt oranges, and rustic browns. Gold harmonizes with these colors in a way that's hard to beat. Like nature's saying, "Yes, gold belongs here."
So, as you gear up for all those fabulous fall events and occasions, guess what? We've got you covered with the absolute fall jewelry essentials and autumn jewelry gift ideas. Seriously, you will not want to miss out on this!
Gold Jewelry Ideas that are Perfect for the Fall Season
Let's start with the ear cuffs. Elevate your autumn style with our 14K Yellow Gold Cuff Earring Set, a versatile and chic addition to your jewelry collection. Crafted with fine attention to detail, these lightweight cuffs, measuring 14mm each and weighing just 1.15 grams, effortlessly blend elegance with comfort.
If chokers are your thing to slay the autumn season, we have a wide selection. Discover timeless elegance with our Classic Rope Choker, a cherished legacy chain essential in every wardrobe, especially for the enchanting autumn season.
Our Mirror Valentino Choker will help you embrace the attention and make a statement as one of the best gold jewelry for all your fall outfits.
You could elevate your style further with our chunky gold chains, the bold statement piece that defines effortless sophistication. The Miami Cuban design with the matching necklace would be an excellent addition to your fall jewelry essentials.
Transitioning from Summer to Fall with Gold Jewelry
Now, transitioning from the hot summer months into embracing autumn can be tricky. But with the right jewelry pieces, you can seamlessly transform a lightweight summer dress into a cozy autumn outfit. Here's how you can do that with these 2023 gold jewelry trends.
Layered necklaces: Add depth to your look with layered gold necklaces. Mix different lengths and styles for a dynamic effect. A delicate pendant necklace paired with a chunky chain creates an exciting contrast that instantly makes your outfit look more fall-appropriate.Our 14K Gold Mariner's beautifully distinct flat links bring just the right amount of charming elegance, whimsy, and solid gold luster to every outfit. Drape the Mariner with our other dainty necklaces to create a multi-dimensional shimmer that sets apart your everyday look, or pair it with our Mariner choker to heighten its appeal just right for the autumn feel.
Statement Earrings: Swap out your summery studs for statement gold earrings. Think hoops or drop earrings with warm, earthy tones. These will draw attention to your face and add a touch of sophistication, making your summer dress feel more seasonally appropriate. Our 14k Gold Cuff Earrings will do the trick, just like the sleek and sublime design of our chunky small hoops that add the perfect dimension to every fall outfit. You could also layer it up with the large twist oval hoops. They're big, beautiful, and twisted- perfect for your jewelry collection.
Warm tones: Choose gold jewelry with warm tones like yellow or rose gold. These hues complement fall foliage's rich, earthy colors and help your outfit seamlessly blend with the autumn landscape. Our Rose Gold Faceted Huggie Hoops take this warm, autumnal concept to the next level. These delicate hoops effortlessly capture the season's essence. Their rose gold hue mirrors the changing leaves, making them the perfect accessory to enhance your fall wardrobe.
Chunky Chains: While the chain necklace trend this fall may be all about going big and bold, our interpretation of chunky chains strikes the perfect balance between statement and sophistication, offering a versatile accessory that's simply enough to elevate any outfit. The 14k Gold Toggle Paper Clip is the perfect piece for that statement and sophistication you aim for. The paperclip links, meticulously detailed in solid 14K gold, create a chic, versatile piece that effortlessly complements any style, just what you need for slaying fall 2023.
Perfecting the Art of Layering with Gold Jewelry in the Fall
Why limit yourself to wearing just one necklace when you can simultaneously adorn yourself with all the necklaces from your collection? The trick is simple. Mix and match different pieces to craft a harmonious and stylish ensemble that perfectly complements the season:
Start with a Focal Piece: Select a statement necklace as your focal point. It could be a chunky chain, a pendant, or a locket – something that sets the tone for your layered look. Our 14k Gold North Star Necklace is an excellent choice, adorned with nautical direction symbols encircling the captivating star at its heart.
Vary Lengths: Layering works best when you have necklaces of varying lengths. Start with a choker or a short necklace close to your neckline, followed by a longer piece, and perhaps even one that grazes your chest. It creates a cascading effect that's visually appealing. Our Saturn Ball Chain will provide you with this cascading and layered effect.
Mixing Textures and Embracing Mismatched Earrings: Feel free to play with various textures and styles. You can combine delicate chains with chunky links or add a textured pendant to a sleek chain. This interplay of textures adds depth and brings extra flair to your outfit. And if you're a fan of mismatched earrings, go ahead and rock them! While our shop might not offer them, you can easily mix and match your own pieces to create a unique ensemble that suits your style.
Consider the neckline: Think about your outfit's neckline when layering necklaces. High necklines work well with shorter, choker-style necklaces, while plunging necklines can accommodate longer, statement pieces.
Mix chunky cuffs with delicate bangles when layering bracelets for a balanced look. This contrast in proportions adds visual interest without overwhelming your wrist. Our Chunky 14k Gold Twist Cable Bangle perfectly matches the delicate 14k Gold Dainty Diamond Cut Beaded Bracelet to achieve that nice contrast.
Extend your layered style to your fingers with stacked rings. Mix thin bands with statement rings to create a captivating, eclectic effect. Experiment with different metals and gemstones to add depth to your hand jewelry.
Complementing Your Fall Outfits with Gold Jewelry
Now, when it comes to pairing autumn jewelry with outfits, these are our simple tips for you.
Tip 1: Chunky Sweater and Hoop Earrings:
Outfit: Pair a cozy, oversized knit sweater with your favorite jeans and ankle boots.
Jewelry: Complement this comfy look with chunky gold hoop earrings. Their boldness contrasts beautifully with the sweater's texture, adding a touch of sophistication.
Tip 2: Turtleneck Dress and Statement Necklace:
Outfit: Slip into a sleek turtleneck dress and knee-high boots for a classy fall ensemble.
Jewelry: Enhance your neckline with a statement gold necklace. Opt for a piece with autumn-inspired motifs like leaves or acorns for a seasonal touch.
Tip 3: Flannel Shirt and Layered Necklaces:
Outfit: Wear a cozy flannel shirt with jeans and ankle boots for a casual, rustic vibe.
Jewelry: Layer delicate gold necklaces of varying lengths to add a touch of elegance. Mixing different styles and textures can create depth and interest.
Tip 4: Knit Cardigan and Cuff Bracelets:
Outfit: Wrap yourself in a chunky knit cardigan over a simple dress or jeans and a top.
Jewelry: Add warmth and substance with chunky gold cuff bracelets. They'll complement the cardigan's coziness while making a stylish statement.
Tip 5: Poncho and Earrings:
Outfit: Cozy up in a fall-inspired poncho with skinny jeans and knee-high boots.
Jewelry: Elevate your look with elegant gold drop earrings. Their graceful dangle adds sophistication to the ensemble.
Remember, the key to styling gold jewelry for autumn is to balance your pieces with your outfits' textures, colors, and styles. Whether you opt for statement pieces or delicate accents, gold jewelry can add warmth, elegance, and a touch of luxury to your fall fashion.
DIY Jewelry Cleaning for Fall
To keep your fall jewelry looking as stunning as ever, you've got to master the fine art of cleaning. It's not just about sparkle; it's about maintaining that fabulous golden shine. So, make sure to check out what we have to say about the Dos and Don'ts of DIY cleaning of gold jewelry.
So, as we embrace the crisp air, pumpkin spice, everything, and the magic of fall, remember that gold jewelry is a timeless companion that elevates every autumn moment, making it all the more enchanting and memorable. Whether you're layering delicate necklaces over chunky sweaters, adorning your wrists with cuff bracelets, or simply slipping on a pair of classic gold hoops, gold jewelry adds an element of sophistication and charm that transcends trends—wishing you an autumn season as brilliant and radiant as the gold jewelry gracing your ensemble.