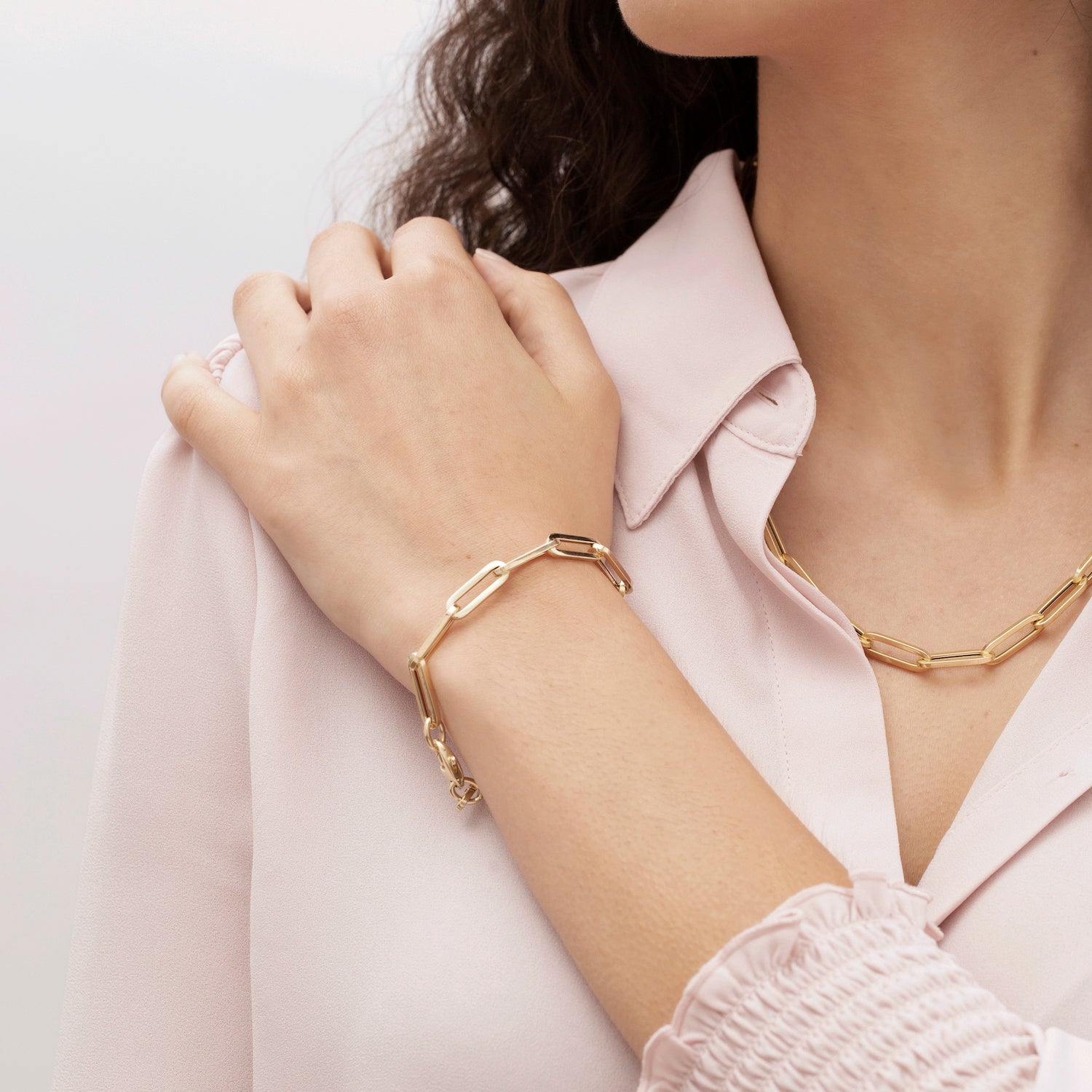 Understanding What Gold Jewelry Looks Best on What Skin Tone
Gold jewelry is a classic and refined option that can enhance the look of any outfit. But, understanding what gold jewelry looks best on what skin tone could be very tricky because of the different shades of gold available in the market. But the good thing is we are here to guide you through finding the ideal gold jewelry to enhance your natural glow. 
Understanding your skin undertone is the first step to selecting the right gold shade. Whatever your skin tone is, there's a gold shade that can perfectly complement your complexion. If you have warm undertones, then it's best to go for rich, yellow-based gold. On the other hand, cool undertones shine best with white gold or rose gold. And if you have neutral undertones, you can easily pull off both warm and cool shades. Isn't that awesome?
Considering the color of your clothing and the occasion you're dressing for also makes a big difference. A statement piece in yellow gold can add a pop of vibrancy to a simple black dress, while rose gold adds a romantic and chic touch to any ensemble.
So, whether you're going for a subtle everyday piece or a show-stopping look with your favorite gold jewelry, this article will help you understand what gold jewelry looks best on what skin tone.
Understanding skin tones and undertones
Knowing your undertone helps you choose the right jewelry that complements your skin tone perfectly and enables you to wear the most suitable color. Skin tone refers to the surface color of your skin, while undertone refers to the underlying hues that are present.
There are three main categories of undertones: warm, calm, and neutral. Warm undertones have a yellow or golden hue, and cool undertones have a pink or blue tint. Neutral undertones mix both warm and cool undertones.
Determining your undertone is easy. You only need to look at the veins on your wrist! It sounds odd, but it's true. If your veins appear green, you likely have warm undertones; if they appear blue, you likely have cool undertones. And if you still need clarification and need help to identify whether they are green or blue, you may have neutral undertones.
Knowing your undertone is crucial when choosing the right gold shade that complements your skin tone perfectly. So, if you're a gold jewelry lover, it's essential to understand what gold jewelry looks best on what skin tone. Trust me; it can significantly affect your overall appearance and enhance your natural glow.
Why gold jewelry is a good choice
Gold jewelry is often considered a versatile and universally flattering choice for individuals with various skin tones and undertones for several reasons—the first reason is gold's warmth. Gold jewelry has warm undertones that perfectly complement a wide range of skin tones, including warm, cool, and neutral undertones. The warm, yellow hues of gold can help enhance and harmonize with the warmth in a person's skin, making it a flattering choice for many. Gold jewelry is an excellent option if you want to add a touch of elegance and sophistication to your outfit. In addition to its versatility, gold jewelry is incredibly durable and long-lasting, making it a wise investment. Plus, who doesn't love the way gold jewelry sparkles in the light? It's simply breathtaking! Trust me; you won't regret adding a piece of gold jewelry to your collection.
Gold has been used in jewelry for centuries and is a classic and timeless choice. Its enduring popularity is a testament to its ability to look good on people with diverse appearances. Gold jewelry looks best on whatever skin tone. Lastly, gold jewelry can easily be mixed and matched with other metals, such as silver or platinum, to create a stylish and unique look. This flexibility makes it adaptable to different outfits and occasions.
Different shades of gold: Which
gold jewelry looks best on what skin tone
Gold jewelry has been adored for centuries, and for good reason. It has a luxurious and timeless appeal that adds a touch of sophistication to any outfit. Whether attending a formal event or simply dressing up for a casual day out, gold-toned jewelry effortlessly elevates your look.
Gold is versatile and can be crafted into various styles, from delicate and dainty pieces to bold and statement-making designs. Its warm and radiant color complements all skin tones, making it a flattering choice. For the best look, however, it is essential to identify which gold jewelry looks best on what skin tone.
Furthermore, gold jewelry holds its value over time and can be passed down as heirlooms. Investing in high-quality gold pieces ensures you enhance your beauty and acquire lasting treasures.
Matching gold jewelry with warm skin tones
Gold jewelry complements warm undertones beautifully, harmonizing with the skin without overshadowing or diminishing its natural warmth. Rich, yellow-based gold is the most complementary choice for warm skin tones. The warm hues of yellow gold harmonize with the golden undertones of your skin, creating a radiant and harmonious look.
Warm skin tones are stunning in gold jewelry and shine brilliantly in rose gold pieces. This exquisite metal offers the same flattering effect while infusing a delightful touch of pink that can work like magic to liven up a complexion with hints of yellow. Think of it as the radiant blush that can genuinely elevate warm skin tones to a whole new level of allure!
 Matching gold jewelry with cool skin tones
If your undertones lean towards the cool side of the spectrum, your ticket to enhancing your complexion with sheer elegance is none other than white gold or the enchanting allure of rose gold.
Picture this: white gold, with its calm and silvery charm, is the ideal companion to cool undertones, weaving a spell of refinement and sophistication that's hard to resist. The subtle shimmer of white gold against cool skin tones creates an elegant and sophisticated look.
On the other hand, rose gold jewelry on cool skin tones adds a touch of warmth and radiance, offering a delightful contrast that's both chic and captivating. And, of course, the timeless allure of gold jewelry on cool skin tones is a testament to its versatility and ability to exude a touch of luxury and charm that's bound to turn heads and leave a lasting impression.
Matching gold jewelry with neutral skin tones
Gold jewelry also looks best with neutral skin tones. Neutral undertones allow you to wear warm and cool shades of gold. This will enable you to mix and match gold tones, creating a unique and personalized look.
When it comes to achieving that classic, timeless elegance that never goes out of style, yellow gold is your best friend.
Picture this: Its rich, vibrant hue not only complements but elevates neutral skin tones to new heights of beauty. It's like a magic wand that infuses warmth and depth into your complexion, accentuating your innate radiance. And here's the secret sauce: gold jewelry looks best on what skin tone, you ask? Yellow gold is that universal sweetheart, transcending boundaries to make everyone shine like a star.
Now, if you're leaning toward a low-key and modern vibe, let me introduce you to white gold, a more valuable alternative than silver, thanks to its resistance to tarnishing. This little gem rocks a cool, silvery demeanor that can instantly give your style a fresh, contemporary twist. The best part? It's like the chameleon of metals – effortlessly blending with those neutral skin tones, and voila! You've got a clean and oh-so-sophisticated look ready to conquer any occasion. So, when you doubt gold or silver jewelry for your neutral skin tone, always choose white gold.
Conclusion and final tips for finding the perfect gold jewelry for your skin tone
As you embark on this delightful journey of discovering what gold jewelry looks best on what skin tone, remember that the right gold jewelry isn't just an accessory; it reflects your personality and is a source of empowerment. Whether you choose the warm embrace of yellow gold, the sleek allure of white gold, or the romantic blush of rose gold, your unique style and inner radiance will shine brighter. As this article comes to an end, remember these final tips:
Skin tone is your superpower: Embrace your skin tone - it's your unique canvas! You can enhance your natural beauty and radiance by choosing the right gold tones.

Your style, Your rules: Don't be confined by limitations – break them! Your style should shine through in your jewelry choices. Make a statement or keep it subtle – it's all about expressing YOU.

Trust your intuition: That feeling when you put on the perfect piece of gold jewelry? It's real, and it's called confidence. Trust your instincts when making a choice. If it speaks to you, it's meant to be.