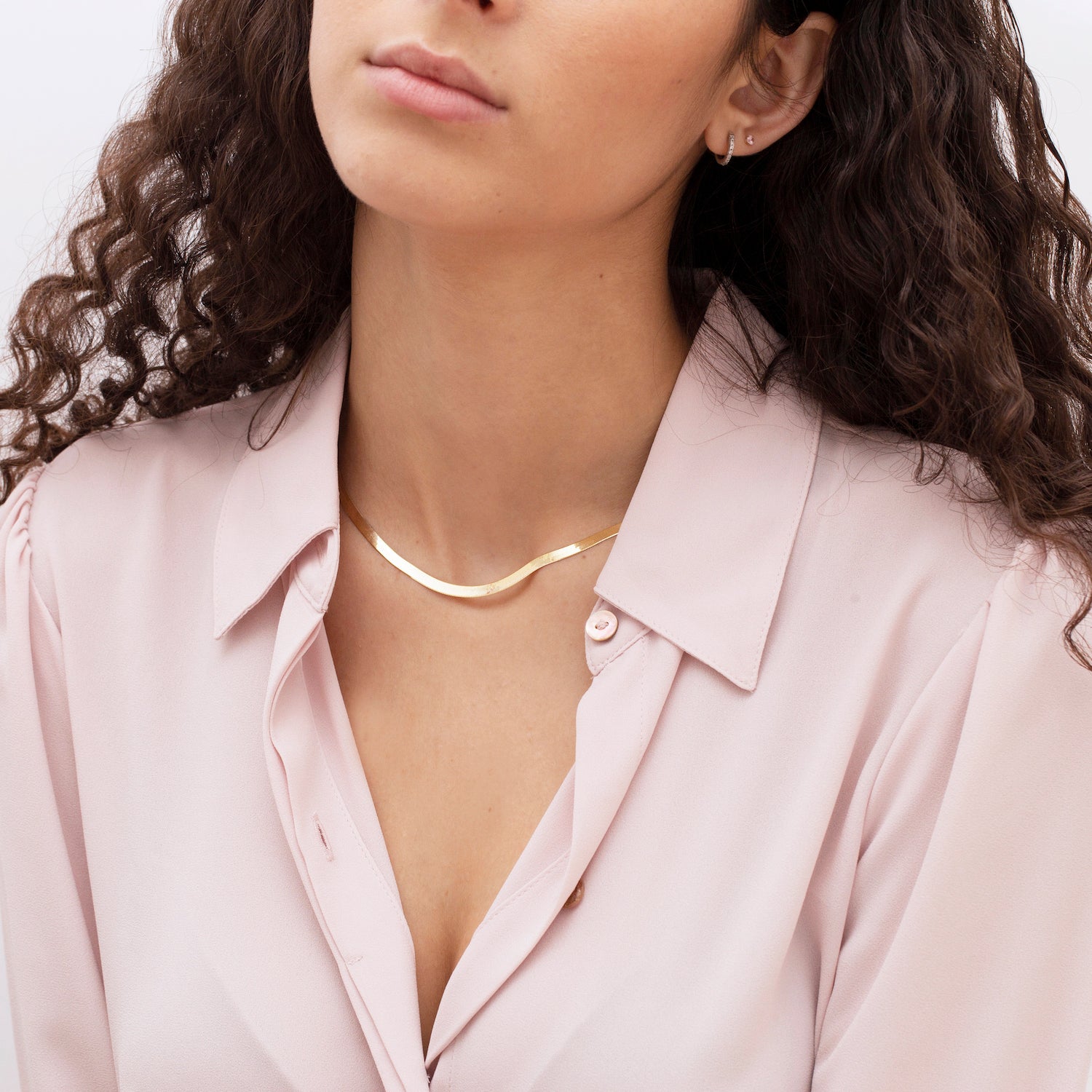 Golden Anniversary Gift Ideas: Timeless Gold Jewelry for 50th Anniversary Celebration
For an incredible milestone of half a century of love, commitment, and cherished memories, gold jewelry for 50th Anniversary is a great gift idea to celebrate it.
Wedding anniversaries mark the sacred vows, unending devotion, and love toward each other. Each Anniversary is exceptional, but reaching a 50th wedding anniversary, also called the golden Anniversary, is an incredibly momentous occasion for any couple. It is an opportunity to reflect on all the shared memories and experiences over the years and to revel in the enduring bond between two individuals, and what better way to commemorate such a milestone than gifting your partner with gold jewelry for 50th Anniversary?
Gold is the perfect jewelry for 50th Anniversary to celebrate the steadfastness of the golden years of marriage. Gold's elegance, rarity, and durability are rooted in ancient and cultural symbolism. As such, it has become a symbol of wealth, longevity, and prosperity, much like what a 50-year marriage is. So, if you are looking for the best 50th wedding anniversary jewelry ideas, gold jewelry is undoubtedly the most fitting choice. 
The symbolism of gold on the 50th Anniversary
But why choose gold when choosing jewelry gifts for 50th wedding anniversary? The tradition of associating specific materials with milestone anniversaries, like gold, can be traced back to medieval Europe, where gold wreaths are presented by husbands to their wives on their 50th Anniversary as a token of their enduring love and commitment. Over time, the tradition evolved, and gold became the standard symbol for a 50th wedding anniversary in many cultures worldwide. Gold jewelry for 50th Anniversary perfectly represents the enduring strength of a relationship that has withstood the test of time for 50 long years. 
As you set out on your adventure together, selecting items that reflect your unique tastes and endure the test of time is crucial, and 14k gold jewelry with its unique, warm, luminous sheen and timeless sophistication represents your 50 years of resilience and commitment.
Our Favorite Gold Jewelry for 50th Anniversary
Now, let's look at some of the best items in our inventory that could make fantastic gold gift ideas for a 50th anniversary. These gifts will make your beloved partner feel special and loved on their celebration of the golden wedding anniversary. From elegant jewelry to sentimental keepsakes, we have something for everyone. Let's look at some of our stunning selection of 50th-anniversary gold pieces!
Timeless Chains: 50th Anniversary Necklace for Her
To help you decide on the perfect gold jewelry for your 50th Anniversary, here is an array of jewelry gifts for your 50th wedding anniversary that your loved one will love!
Starting strong with our 50th anniversary necklace for her, our Signature 14k Herringbone. Our herringbone necklace is the classic must-have accessory—the intricate chevron patterns of parallel gold shimmer with strength and sophistication.
 Shop Gold Jewelry for 50th Anniversary
Like a river of gold that gently envelopes you, this necklace will be adored by every woman, especially someone in celebration of a 50th anniversary.
If the herringbone is not to your liking, our 14k gold mm ball chain will surely seal the deal. These tiny balls of polished gold will make your partner shine even more.
Shop 50th Anniversary Necklace for Her
Suppose classic simplicity is what you want for her. In that case, our Round Omega 14k Solid Gold stunner will draw attention and buzz every time. It will undoubtedly fit the 50th anniversary gifts for the wife.
 Shop Stunning Gold Jewelry for 50th Anniversaries
Elegant Bracelet Selections: Perfect 50th Anniversary Gold Jewelry for Wife
Regarding bracelets that are excellent 50th anniversary gift for your wife, our Miami Cuban will always be on trend, especially if she's on the bolder side. It's a wardrobe essential that would set every look apart, whether worn alone or layered.
Shop 50th Anniversary Gifts for Wife

How about something chunky? Our Chunky 14k gold twist cable bangle with the thick cable pattern will add serious style to her wrist, making it a fabulous 50th anniversary gold jewelry.
 Shop 50th Anniversary Gold Jewelry
Perfect for everyday wear or dressing up for a night out. Simple yet stunning – this bangle is a must-have accessory for anyone who wants to rock that effortlessly cool look!
Dazzling Earrings for Your Golden Milestone
Now that you've had the perfect set of bracelets and necklaces, complete your style with our classy and elegant 14k gold earrings that will match your momentous golden anniversary.
Whether you prefer the simplicity of studs or the glamour of dangling designs, gold earrings are a must-have for any wardrobe.
Discover 50th Wedding Anniversary Jewelry Ideas
Our Small 14k Gold Chunky Curb C Hoops are just what you need to make a statement. With its curbs design perfectly matching marriage's enduring bond, this earring will pop out your partner's beauty and shine.
 Shop 50th Anniversary Gifts for Your Partner
If you prefer textured ones, we have the Textured Hexagon Post Hoops. The multifaceted design and sun-kissed textured pattern create an elegant starburst effect that will mirror the grandeur of a 50th anniversary.
Elegant 50th Anniversary Gold Chains and Bracelets for Him
Since a 50th anniversary is a celebration of a couple, we also have a showcase of a 14k gold collection of chains and bracelets tailored for men. Famed pieces that would suit your desire for gold jewelry for the 50th Anniversary. From the Signature Mariner, Classic Curb, Signature Franco, and Classic Rope to the Figaro and Miami Cuban all of which are tailored for style expression and love celebration.
The Figaro would be the perfect addition to your husband's collection as it goes quickly from casual to corporate. He surely won't take it off.
 Shop 50th Anniversary Gifts for Husband
Our Miami Cuban, a timeless classic, has the heft of distinct interlocking links, like the links of any successful marriage. This choice exudes a distinctly masculine appeal.
Shop 50th Anniversary Gold Jewelry Gifts for Him
Customization and Personalization
At Goldmania, we offer a wide range of gold jewelry that can be customized and personalized to suit your unique style and preferences. Whether you're looking for simple yet elegant gold jewelry for a 50th anniversary or a statement-making piece, we have something for everyone. So why settle for generic, mass-produced jewelry when you can have something truly one-of-a-kind? All you have to do is reach out!
Care and Maintenance of 14k Gold Jewelry
Now that you have your 50th Anniversary gold jewelry, the next step is learning how to clean your gold pieces and maintain their shine for the years to come. To ensure your gold jewelry for the 50th Anniversary retains its brilliance for years to come:
Adopt a gentle cleaning routine using mild dish soap and warm water.

Soak the pieces briefly, softly scrub away dirt, rinse thoroughly, and pat dry with a soft cloth.

Store the jewelry separately in a safe place when not worn to avoid scratches and tangles.
With these easy steps, those jewelry gifts for 50th wedding anniversary that you cherish will continue to sparkle, symbolizing the enduring love of your 50-year journey together.
Conclusion: 50th Wedding Anniversary Jewelry Ideas
Celebrating a 50th wedding anniversary is a momentous occasion that deserves commemoration with a special jewelry piece. The gold pieces we have showcased will make your celebration golden and worthy of the half-a-decade testament of an enduring, timeless, and steadfast marriage.
As you enjoy reading, embrace the opportunity to find the perfect gold jewelry for 50th wedding anniversary that symbolizes your profound affection and devotion. Every piece is a masterpiece designed to evoke emotions and create cherished memories. Here's to 50 years of love and commitment. Our 50th anniversary gold offerings will remind you of the love you have shared over the last 50 years. May you continue to shine like gold for many more years to come!