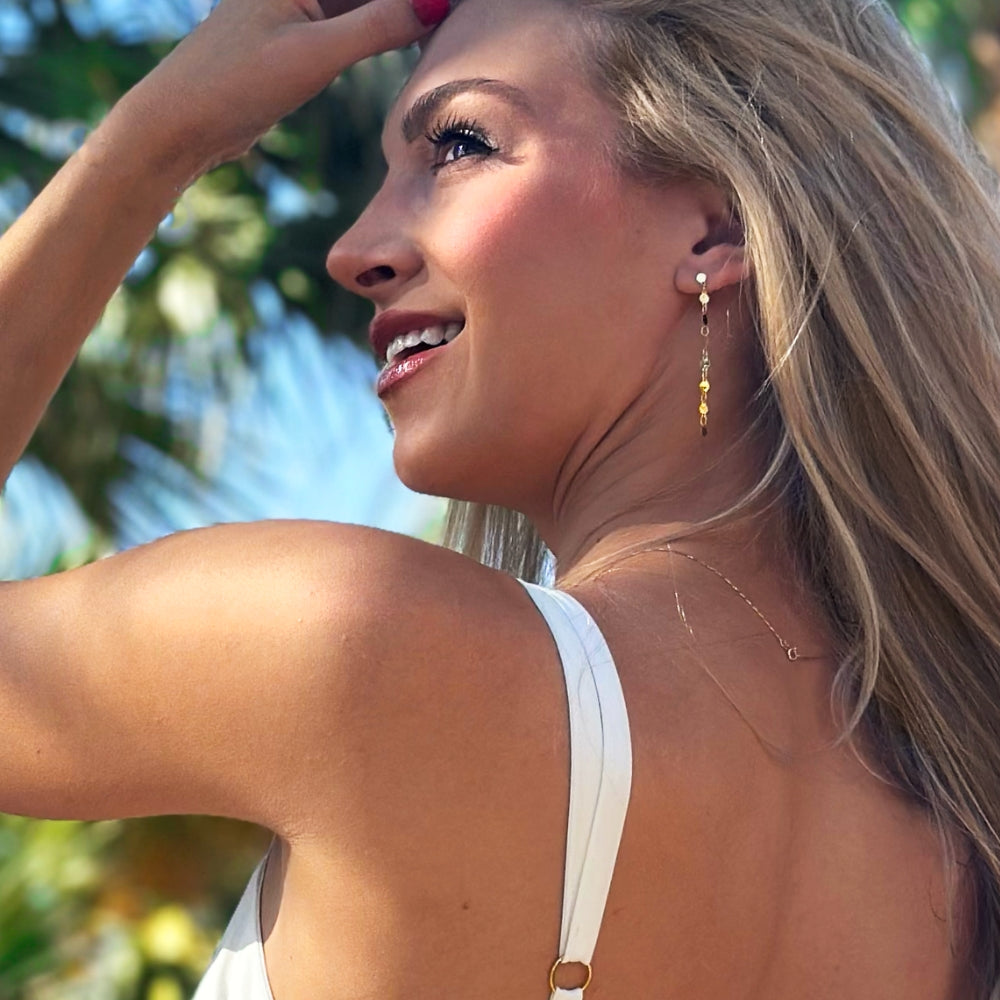 Sparkle and Shine this Labor Day Weekend with Timeless 14k Gold Jewelry
Labor Day is just around the corner, and what better way to celebrate than by accessorizing with the perfect gold jewelry pieces that will match your Labor Day outfit? Whether attending a backyard BBQ or heading out for a day in town, adding some sparkle to your outfit will surely make you feel extra special. From dainty gold chains to statement earrings, there are endless options to choose from when it comes to gold jewelry that will match your Labor Day weekend.
We offer a 15% Labor Day jewelry sale to make this weekend even more unique. Labor Day is the perfect opportunity to get the pieces you've been eyeing at an incredible discount. Take advantage of this chance to adorn yourself with the finest craftsmanship and timeless beauty. Join us for our Labor Day jewelry promotion and make this weekend a celebration of style and elegance. Treat yourself to something shiny this Labor Day with our jewelry pieces at Goldmania!
A Subtle Touch of Elegance for Labor Day Weekend: Necklaces that Speak Volume
As you prepare for your Labor Day weekend getaway, remember the impact of effortless elegance. Our collection of delicate gold jewelry necklaces and chains perfectly embodies this concept. Each piece has been crafted with meticulous attention to detail, using only the finest 14k gold. These exquisite necklaces are the perfect accessory to enhance any outfit for all your Labor Day outings. Without saying a word, these necklaces exude effortless sophistication and grace that will elevate your Labor Day 2023.
Feel like a Grecian goddess with our adjustable Classic Curb Choker that will hug you in 14k elegance and shimmer. You can wear it as a standalone piece or layer it with our other necklaces for a Labor Day look that will turn heads.
Try our Signature Herringbone Chain with intricate chevron patterns of parallel gold that shimmer with strength and sophistication. Our daring herringbone necklace creates an impact at any chosen length. It is ideal for stacking or showcasing on its own.
Whether you're drawn to the understated charm of delicate gold chokers or the timeless appeal of intricate gold chain necklaces, our range has been curated to embrace the essence of elegance and craftsmanship. Just as labor shapes our world, these jewelry choices shape your style, adding a touch of luxury that's perfect for holiday celebrations.
Expressions of Style: Earrings for Every Mood
Your jewelry choices are an extension of your personality and mood. This Labor Day, express yourself with our diverse range of earrings. From simple studs that exude sophistication to playful hoops that capture the spirit of adventure, we have something for every style. Let your earrings be your silent storytellers as you embrace the weekend's festivities.
First on the list is our standout Large Double C Hoops. Be bold and wear that confidence in 14k shimmer, perfect for the Labor Day weekend.
Suppose pattern and texture are what you are looking for. In that case, you will love the glow from our multifaceted 14k Yellow Gold Hexagon C Hoop Earrings. The sun-kissed textured pattern creates an elegant starburst effect that would make a golden difference to your Labor Day outfit ideas.
Like drops of success that gracefully adorn your ears, these earrings capture the essence of dedication and perseverance. Just as each piece of jewelry represents the artistry of Labor, let these gold earrings reflect your accomplishments, adding a touch of brilliance to your Labor Day festivities.
The Art of Adornment: A Bracelet that Wows
Gold jewelry pieces like bracelets are pieces of art that could mean beautiful promises and undying love wrapped in wrists. Our captivating 14k gold bracelets are designed to be eye-catching and comfortable, just what you need for Labor Day weekend. These gold jewelry pieces will remind you that every step of your journey is a testament to hard work and dedication. Like the links of our bracelets, your efforts are interconnected, creating a chain of achievements that deserve to be celebrated. With each elegant curve and gleaming detail, our bracelets embody the strength and beauty of your accomplishments, making them the perfect companions for Labor Day 2023, filled with reflection and pride.
Drawing inspiration from a compass, our 14k Gold North Star Bracelet offers a bold way to express your style, encapsulating the essence of handcrafted wrist artistry.
Celebrating Young Spirits: Labor Day Jewelry for Tweens
Gold jewelry for a holiday is not exclusive to adults. Tweens and budding fashion enthusiasts can enjoy them as well. Our collection of Labor Day jewelry for tweens is a good start for a gold jewelry appreciation. From adorable earrings that sparkle their eyes to delightful bracelets commemorating their individuality, these items mirror their youthful energy and imaginative flair. 
Our Drop Chain Earrings add elegance and sophistication to your beloved tweens. The 60mm draped microchains create an infinite effect that catches the eye. 
However, the Mirror Drop Chain Earrings showcase an elegant trend of dazzling 14k gold discs draped into a cascade of shimmer and sparkle. This features a playful golden disc station that follows your every move. 
If you want to explore shapes and structure, try our 14k Gold Enamel Stud Earrings. They come in square, hexagon, staple, round, and marquise, perfect for any young gold jewelry enthusiast. 
Our Signature 14k Gold Rolo Bracelet would also be an excellent start for Labor Day jewelry for your tweens this Labor Day weekend. This also has a matching necklace to elevate your tween's Labor Day outfit this weekend.
If you aim for a happy, confident, and subtle accent of sophistication, your tweens would love the 14k Paperclip Bracelet. This bracelet takes the concept of minimalism to a whole new level. Its sleek and slender paper-clip-inspired links create a stunning visual contrast. The subtle elegance of the design makes it a versatile accessory that effortlessly complements any outfit, especially this Labor Day weekend.
Find the Perfect Gold Jewelry for Your Labor Day Weekend Get-up
At Goldmania, our mission is to assist you in embracing life's moments with grace and elegance. The gold jewelry pieces showcased in our collection testify to our brand's exceptional craftsmanship and timeless refinement. As you embark on your Labor Day weekend adventure, consider how our carefully handcrafted 14k gold jewelry can elevate your radiance. This Labor Day, allow our pieces to underscore that elegance is a journey, and each piece you don amplifies a distinctive story – your very own narrative.
Celebrate Labor Day with us in a timeless fashion. Adorn yourself with the epitome of luxury – explore the gold jewelry pieces in our collection and embark on a journey of elegance that transcends time and resonates with your spirit. We wish you a Labor Day weekend filled with joy, beauty, and cherished memories.